Yugamu Kuukan (ゆがむ空間) is a catch hissatsu technique.
Users
Info
It debuted in episode 4 by Nata Juuzou. It was used three times and stopped Someoka's Dragon Crash twice. Later, it was broken through by Dragon Tornado after Gouenji found the secret behind Yugamu Kuukan.
Usage
It is a catch hissatsu that uses hypnotic power to make you lose your sense of balance and weakens your shoots.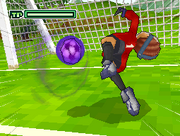 To prevent the hypnosis from affecting you, you musn't look at the hands of the user.
Slideshow
Anime
Video
Anime
Trivia
This is one of the weakest catch hissatsu in all of the games.