White Blade (ホワイトブレード, Howaito Burēdo) is a game exclusive dribble hissatsu technique.
Description
Inazuma Eleven GO
"The game may be heating up, but these ice rings will keep foes at bay!"
Users
Usage
A cycle made of ice appears around the user while the user kicks in a rotating motion. The user then stands in the middle of the ice ring and raises a hand and snaps his/her fingers. The ice ring will break and shoot out icicles damaging the opponent.
Slideshow
Wii
Video
Inazuma Eleven GO Strikers 2013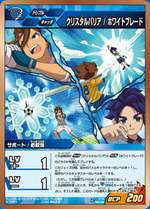 Ad blocker interference detected!
Wikia is a free-to-use site that makes money from advertising. We have a modified experience for viewers using ad blockers

Wikia is not accessible if you've made further modifications. Remove the custom ad blocker rule(s) and the page will load as expected.