Waterfall (ウォーターフォール, Wōtāfōru) is a block hissatsu technique that appeared in Inazuma Eleven GO Galaxy
Users
Inazuma Eleven GO Galaxy
Info
It first appeared in episode 26 in the match between Sazanara Eleven and Earth Eleven. It was used by Ness Biicha to stop Nozaki Sakura and Matatagi Hayato.
It was used again in episode 27 and it successfully stopped Matatagi Hayato.
Usage
The user first rise his hands in a main form then a huge waterfall falls on the user. The user then stands on this huge waterfall and blocks the opponent.
Slideshow
Video
Anime
Galaxy game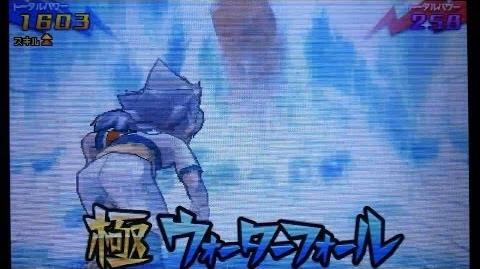 Ad blocker interference detected!
Wikia is a free-to-use site that makes money from advertising. We have a modified experience for viewers using ad blockers

Wikia is not accessible if you've made further modifications. Remove the custom ad blocker rule(s) and the page will load as expected.