Unicorn Boost (ユニコーンブースト, Yunikōn Būsuto) is a combination shoot hissatsu technique.
Profile
Inazuma Eleven Strikers
"Combine your powers for a twin volley, then summon a unicorn to charge the goal!"
Users
Info
It was used by Mark Kruger and Dylan Keith in episode 99. Mark and Dylan used it to give them the lead by 2-1, just after half time. It was also used in episode 107 in the match against Argentina's national team, The Empire but was blocked by Teres' Iron Wall.
Usage
First the 2 users run after the ball, then they jump and kick together and a violet unicorn appears behind them and heads toward the goal with the ball.
Slideshow
Anime
Video
Anime
Game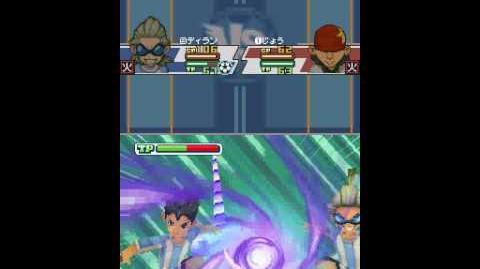 Inazuma Eleven Strikers 2012 Xtreme
Trivia
This hissatsu has three colours: in the anime is violet and purple, in the game is white and violet and in the TCG is blue and purple.
In the Wii game, when this hissatsu is performed, Dylan says "Big Surprise", exactly like in the anime, when Mark performs Gran Fenrir.