Trick Ball (トリックボール, Turikku Bōru) is a dribble hissatsu technique.
Users
Info
This hissatsu used in episode 34 by Shiranui from Genei Gakuen to pass Hamano.
Usage
The user kicks the ball up and the ball becomes huge while in the air. Then, it pretends to smash on the target, making the target flinch.
Slideshow
Anime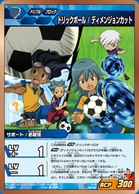 Video
Anime
Game
Ad blocker interference detected!
Wikia is a free-to-use site that makes money from advertising. We have a modified experience for viewers using ad blockers

Wikia is not accessible if you've made further modifications. Remove the custom ad blocker rule(s) and the page will load as expected.