Toyama Shinichirou (富山 新一郎) is the coach of Mikage Sennou.
Appearance
He wears a device which almost covers his entire face. He has brown hair and a very light moustache and a beard.
Plot
He controlled his team and told them what must they do, under the orders of Kageyama Reiji. At the end, his team lost against Raimon.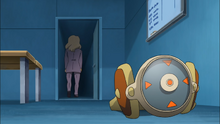 Mikage Sennou

Members
Coach

Toyama Shinichirou
Ad blocker interference detected!
Wikia is a free-to-use site that makes money from advertising. We have a modified experience for viewers using ad blockers

Wikia is not accessible if you've made further modifications. Remove the custom ad blocker rule(s) and the page will load as expected.