Tobisawa Mana (跳沢 真波) is a forward of Kidokawa Seishuu.
Profile
Inazuma Eleven GO
Appearance
He has short grey hair and a tanned skin tone. He has small eyebrows and blue eyes.
Personality
He seems to be with the Fifth Sector.
Plot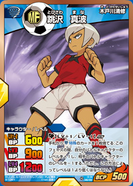 He made his first appearance in episode 29 with the rest of the Kidokawa Seishuu team, being one of the few players who isn't is in conflict with another members. During the beginning of the match he, along with other few members, made a sequence of passes during Kidokawa Seichuu's first attack, but are unsuccesfull to make a shoot because of the Water World Stadium pit down mechanism.
In episode 30, he had the ball stolen by Tsurugi. A few minutes later, he used Kidokawa's hissatsu tactics God Triangle to advance through the field, but was uncessful to score a goal. He then tried to steal the ball from Hamano Kaiji, only to be dribbled by Naminori Piero. He then brings out his combination hissatsu Triangle ZZ and scored the second goal.
He is also seen doing a corner in the episode 31 and using God Triangle again.
But finally, Kidokawa Seishuu lost with a score of 3-2 against Raimon.
Recruitment
Inazuma Eleven GO
In order to recruit Tobisawa, the following requirements are needed:
After this, he can be scouted for an amount of 1600 Kizuna Points.
Stats
All stats are at level 99 and untrained.
GP: 123
TP: 166
Kick: 94
Dribbling: 111
Technique: 150
Block: 96 (116)
Speed: 112
Stamina: 93
Catch: 57
Lucky: 97
GP: 119
TP: 136
Kick: 88
Dribbling: 107
Block: 114
Catch: 52
Technique: 147
Speed: 109
Stamina: 66
Lucky: 83
GP: 119
TP: 136
Kick: 88
Dribbling: 107
Block: 114
Catch: 52
Technique: 147
Speed: 109
Stamina: 66
Lucky: 83
Hissatsu
Inazuma Eleven GO
Inazuma Eleven GO 2: Chrono Stone
Inazuma Eleven GO Galaxy
Game exclusive teams
Inazuma Eleven GO
Ad blocker interference detected!
Wikia is a free-to-use site that makes money from advertising. We have a modified experience for viewers using ad blockers

Wikia is not accessible if you've made further modifications. Remove the custom ad blocker rule(s) and the page will load as expected.