The Wall (ザ・ウォール, Za Wōru) is a block hissatsu technique.
Profile
Inazuma Eleven
"This giant wall is created through the power of the earth."
Users
Info
Inazuma Eleven
It is first used in the first season of Inazuma Eleven by Kabeyama Heigorou during the match against Sengoku Igajima. It was also used again to stop Gouenji's normal shot in the selection match.
Inazuma Eleven GO
Kabeyama used this hissatsu, called it the complete evolved form of the Wall, during the second half of the match between Raimon and Zero. Kabeyama sucessfully stopped Kibayama Douzan and passed the ball to Kazemaru Ichirouta.
Inazuma Eleven Reloaded
Kabeyama used The Wall in the match between Raimon and Barcelona Orb. He tried to stop the opposing team from advancing further, but it was easily passed by kicking the ball over him.
Inazuma Eleven Ares no Tenbin
During the match between Minodouzan and Inakuni Raimon, Iwato Takashi mastered The Wall after some special training assigned by Zhao Jin Yun. He used it when the members of Minodouzan started to attack in their formation and stopped Ugou Sarukichi from shooting. After that, he launched the counter attack from Inakuni Raimon that led to the first goal.
Usage
The user raises a rock wall behind them, causing the opponent to fall over and lose the ball, which rolls to the user.
Obtainment
Inazuma Eleven
The Wall can be bought for 700 Nekketsu points.
Gallery
Slideshow
Anime
Video
Anime
Inazuma Eleven Reloaded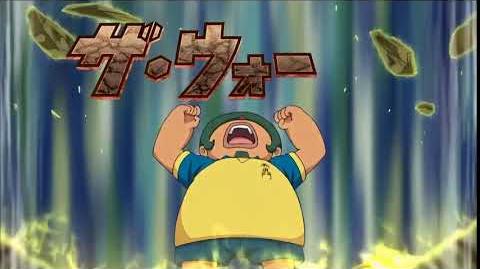 Game
Inazuma Eleven GO Strikers 2013
Trivia