The Phoenix (ザ・フェニックス, Za Fenikkusu) is a combination shoot hissatsu technique.
Users
Inazuma Eleven
Inazuma Eleven 2: Kyoui no Shinryakusha
Inazuma Eleven 3: Sekai e no Chousen!!
Inazuma Eleven Strikers
Inazuma Eleven Strikers 2012 Xtreme
Inazuma Eleven GO Strikers 2013
Usage
The three users dribbles at the same speed and intersects each other at the ball. The trail the users left behind becomes fiery auras crossing each other, which causes the ball to rise up in the air. A fire-covered phoenix soon appears below the aura-covered ball and the three users then kick the ball towards the goal.
Info
This move was first used during the Football Frontier semifinals against Kidokawa Seishuu in episode 21. It was shown that this move was evolved from Tri-Pegasus in the anime. It was used again in episode 26 to do a shoot chain with Fire Tornado.
In the Movie, it is used too, but it got stopped by Zagomel's Needle Hammer.
Slideshow
Anime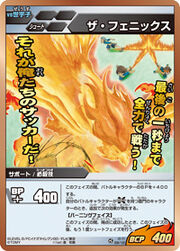 Video
Anime
The Phoenix + Fire Tornado game
Inazuma Eleven GO Strikers 2013
Trivia