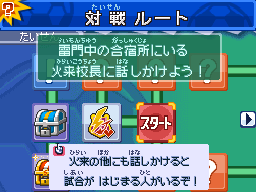 A Taisen Route (対戦ルート lit. Competition Route), also known as Challenge Route or Extra Route Competition, is a game mechanism that has existed since the second game. It's a system where various teams are confronted, following a route, where at the end items can be gained based on the rank in the previous matches. Also, after the matches you can get drop items.
Until Inazuma Eleven 3 it was a way to recruit characters that you meet along the game's main story course. From Inazuma Eleven GO onwards, its function changed, a specific team has to be beaten, until a Kizuna item is dropped.
Ranks
After beating a team, one of these ranks are given based on the score:
B: Win the match.
A: Score three or more goals of difference.
S: Score five or more goals without losing one.
List of routes
Trivia
Taisen Routes were initially absent from Inazuma Eleven 1, with the only postgame team being Ura Zeus. The European version had one included due to it being based off of the the engine of its sequel.
Ad blocker interference detected!
Wikia is a free-to-use site that makes money from advertising. We have a modified experience for viewers using ad blockers

Wikia is not accessible if you've made further modifications. Remove the custom ad blocker rule(s) and the page will load as expected.