Ad blocker interference detected!
Wikia is a free-to-use site that makes money from advertising. We have a modified experience for viewers using ad blockers

Wikia is not accessible if you've made further modifications. Remove the custom ad blocker rule(s) and the page will load as expected.
Sunshine Force (サンシャインフォース, Sanshain Fōsu) is a Keshin shoot hissatsu technique.
Users
Inazuma Eleven GO
Inazuma Eleven GO 2: Chrono Stone
Inazuma Eleven GO Strikers 2013
Keshin
Inazuma Eleven GO
Inazuma Eleven GO 2: Chrono Stone
Inazuma Eleven GO Galaxy
Inazuma Eleven GO Strikers 2013
Info
Inazuma Eleven GO
It is first seen in a trailer of the game. It was used by Arakumo Gakuen's captain Amemiya Taiyou.
It first appeared in the anime in episode 38, where it broke through Hunter's Net, Atlantis Wall and Fence of Gaia and scored. Later, it was blocked by Goseishin Titanias's Majin The Hand.
In episode 39, Amemiya used it again, but it was blocked and sent back to Arakumo's goal by Matei Gryphon.
Inazuma Eleven GO 2: Chrono Stone
It was first used in episode 23. It was used to score the second goal against Karakuri Heibayou.
It was used again in episode 24 by Amemiya. It was used two times in order to score a goal but it got stopped once by Shuten's Sand Cutter and once by Zanark in his Mixi Max form.
Usage
The user summons up their keshin, then gathers two orbs of orange energy in their hand, he then puts his two hands together and appears to combine them. The user then releases the energy as the keshin appears to be doing the same. The keshin then puts the orange energy in the ball as it begins to take an appearance like a fiery sun. The user then jumps up and kicks the ball towards the goal. Also while doing this the sky seems to change colour as well.
Gallery
Slideshow
Anime
Video
Inazuma Eleven GO
Chrono Stone
Game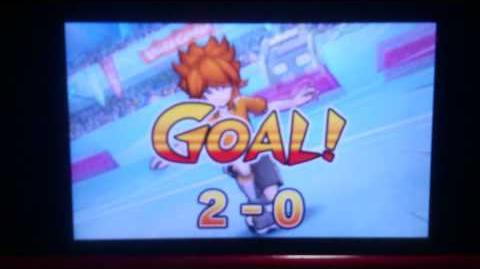 Inazuma Eleven GO Strikers 2013