Strike Samba (ストライクサンバ, Sutoraiku Sanba) is a shoot hissatsu technique.
Description
Inazuma Eleven Strikers
"Use samba rhythm and funky footwork to dazzle opponents with this trick shot!"
Users
Info
It was shown that it evolved up to V3 and couldn't be stopped by 真 Ijigen The Hand. At V2, it broke through 真 Ijigen The Hand, but was stopped by Ikari no Tettsui V2 with help from Tobitaka and Fubuki. At V3, it was stopped by Hijikata, Kabeyama, 真 Ijigen The Hand and Shinkuuma V2.
Usage
The user kicks the ball up slightly to the front then does a backflip kick to bring it back up from behind, while spinning the ball with his/her feet in mid-air. The ball gathers greenish energy as the user kicks the ball towards the goal in a spinning stream of green energy and confetti.
Slideshow
Anime
Video
Anime
Game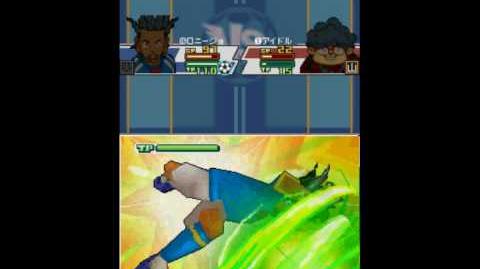 Inazuma Eleven GO Strikers 2013
Trivia