Spinning Transam (スピニングトランザム, Supiningu Toranzamu), also known as Shoot Command 01 (シュートコマンド01, Shūto Komando Zero-Wan), is a shoot hissatsu technique.
Description
Inazuma Eleven GO 2: Chrono Stone
"Spin the air into a whirlwind and then spin the ball into the goal!"
Users
Info
It was used by Alpha in episode 1 in the first match between Tenmas and Protocol Omega. It was stopped by Matchos' Excellent Breast.
In episode 3, it was stopped again by Endou's Great The Hand.
Usage
The user jumps very high while rotating, with a whirlwind coming from his/her body. The whirlwind passes to the ball and the user shoots.
Obtainment
Inazuma Eleven GO 2: Chrono Stone
You can randomly drop Spinning Transam by beating Protocol Omega at Handa's taisen route at the riverbank field.
Gallery
Slideshow
Anime
Video
Anime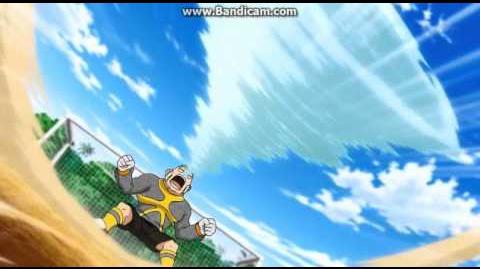 Inazuma Eleven GO Strikers 2013