Spinning Shoot (スピニングシュート, Supiningu Shūto) is a shoot hissatsu technique.
Game description
Inazuma Eleven
"Shooting while spinning may make your head spin, but it's tops!"
Users
Obtainment
Inazuma Eleven 2
Spinning Shoot's manual can be bought in Nara's hissatsu store for 150 Nekketsu Points.
Usage
The user creates a large whirlwind by spinning on his/her hands, then the user kicks the ball whilst still spinning.
Slideshow
Anime
Video
Anime
Game
Inazuma Eleven Strikers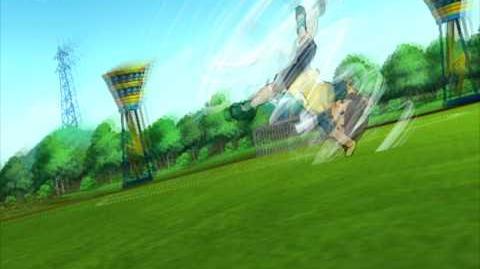 Ad blocker interference detected!
Wikia is a free-to-use site that makes money from advertising. We have a modified experience for viewers using ad blockers

Wikia is not accessible if you've made further modifications. Remove the custom ad blocker rule(s) and the page will load as expected.