Spinning Cut (スピニングカット, Supiningu Katto) is a block hissatsu technique.
Game description
Inazuma Eleven
"Roundhouse opponents off the ball with the power of the shockwave."
Users
Info
Original series
During the first season, Spinning Cut was primarily used to prevent the use of the technique Tri-Pegasus in the match between Raimon and Kidokawa Seishuu. It was overcome by The Phoenix, a technique that evolved from Tri-Pegasus. It appeared again when Nishigaki was a part of the Dark Emperors. He used it to stop The Phoenix and was successful. This move made its appearance once more in the third season, where Kurimatsu used it to block The Typhoon V3 during their post-graduation match.
Inazuma Eleven Ares no Tenbin
Spinning Cut was used during the match between Seishou Gakuen and Kidokawa Seishuu. Nishigaki used it to successfully steal the ball from Haizaki after he was stopped by Kidokawa Seishuu's combination defense.
Usage
The user's foot glows with the presence of blue energy. The user then leaps and does a roundhouse kick, making a wide wall of blue flames aiding the user to block an incoming shoot or the opposition.
Slideshow
Original series
Ares no Tenbin series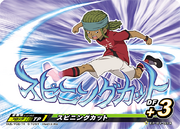 Video
Original series
Inazuma Eleven Ares no Tenbin
Game
Inazuma Eleven GO Strikers 2013
See also