Ad blocker interference detected!
Wikia is a free-to-use site that makes money from advertising. We have a modified experience for viewers using ad blockers

Wikia is not accessible if you've made further modifications. Remove the custom ad blocker rule(s) and the page will load as expected.
Saggy
サガミネタ

Dub: Sagaminator

Sagamineta (サガミネタ), also known as Saggy, is a scout character introduced in the first Inazuma Eleven game.
Profile
"A big-footed, sunglasses-wearing man of steel who hates to lose."
"A big-footed, sunglass-wearing man of steel who hates to lose."
Info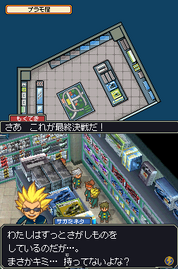 Sagamineta is a scout character in the Inazuma Eleven games. He also makes several appearances throughout the Inazuma Eleven and Inazuma Eleven GO anime. He can often be found in the audience of matches, passing by, or his face can be seen on various products.
Game
In the first game you can recruit him by obtaining the big boots and sunglasses you find big boots next to the tower in the (top right corner) and the sunglasses in the main building first floor (as soon as you go in go left to the lockers). You can find him in a gym store on the main street.
In the second game you find him in Okinawa on the beach at Oumihara (bottom right).
Stats
All stats are at level 99 and untrained.
GP: 195
TP: 165
Kick: 77
Body: 71
Control: 60
Guard: 70
Speed: 64
Stamina: 70
Guts: 67
GP: 195
TP: 165
Kick: 77
Body: 71
Control: 60
Guard: 70
Speed: 64
Stamina: 70
Guts: 67
Freedom: 22
GP: 136
TP: 114
Kick: 77
Body: 71
Control: 51
Guard: 50
Speed: 52
Stamina: 61
Guts: 67
Freedom: 19
GP: 176
TP: 100
Kick: 162
Dribbling: 76
Block: 61
Catch: 66
Technique: 119
Speed: 95
Stamina: 107
Lucky: 100
GP: 176
TP: 100
Kick: 162
Dribbling: 76
Block: 61
Catch: 66
Technique: 119
Speed: 95
Stamina: 107
Lucky: 100
Hissatsu
Inazuma Eleven
Inazuma Eleven 2
Inazuma Eleven 3
Inazuma Eleven GO 2: Chrono Stone
Inazuma Eleven GO Galaxy
Game exclusive teams
Inazuma Eleven 2
Inazuma Eleven 3
Inazuma Eleven GO Galaxy
Trivia