The SP Fixers (SPフィクサーズ) are a team of bodyguards that protect the Prime Minister Zaizen Sousuke. They also love playing soccer. The team consists of both teenagers and adults.
Uniform
Home
Their team jersey is a black colored suit, with a white, collared shirt underneath, and a black coloured tie. The cleats are black as well. Some team members wear headphone communicators. The goalkeeper uniform is a dark blue shirt, with dark grey shoulder paddings, chest paddings, and this is fitted with black pants and dark grey boots (as cleats).
Away
Their away team jersey is similar to the home one, but the only difference is that it has a white coat and trousers. The collared shirt is in navy color with a gray-colored tie.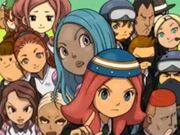 Members
Tetsukabe Ken (GK)

Goyou Takeshi (DF)
Hayate Hayato (DF)
Sakura Tamon (DF)
Sumisu Eiji (DF)
Gokuhi Tsutomu (MF)
Tateno Mai (MF)
Sakite Masaru (MF)
Kagami Houko (FW)
Zaizen Touko (MF/captain)
Kisoku Jun (FW)
Tamakura Geki (GK)
Tokube Nariyuki (DF)
Denju Atsumu (MF)
Hikage Rinda (FW)
Minobe Tamotsu (DF)
Trivia
This team doesn't have numbers on their team jersey.
SP Fixers

Members