Rujiku
Talk

2
4,173pages on
this wiki
Rujiku (ルジク) is the goalkeeper for Protocol Omega 3.0, and later on, also for El Dorado Team 02.
Profile
Inazuma Eleven GO 2: Chrono Stone
"He looks like an innocent boy but he protects the goal like a demon."
Appearance
He has dark blue hair and black, yellow eyes which resembles the eyes of a cat.
When he is Mixi Maxed with Zanark, his hair turns light teal and his eyes turn red. His goalkeeper uniform changed to a dark pink one.
Plot (Chrono Stone)
France Era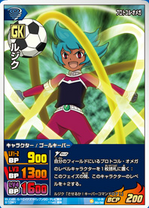 He first appeared in
Episode 18
, where he was chosen to be a member from
Protocol Omega 3.0
, replacing
Zanou
. Later, he and his teammates were badly beaten by
Zanark Avalonic
, a S-Rank criminal who had escaped from
El Dorado
's Eternal Prision. He was later
Mixi Maxed
with him, being put, in the process, under his control.
He appeared In Episode 21, he tried saving Tsurugi's Keshin Armed shoot with Keeper Command 07 but failed. He also failed to catch Shindou's Setsuna Boost with Keeper Command 07. After the match which Protocol Omega lost with 2-1, he along with the other were sent to an unknown place by Zanark.
Ragnarok Tournament
In Episode 39, he reappeared along with some of the other Protocol Omega players. He became a member of El Dorado Team 02.
In Episode 42, he was injured by Dead Future and was replaced by Mecha Endou.
Recruitment
Inazuma Eleven GO 2: Chrono Stone
In order to recruit Rujiku, you first need to beat The Lagoon. Also, you'll need to have:
After this, he can be scouted for an amount of 4000 Kizuna Points.
Character Sprite and Avatar
| | Avatar |
| --- | --- |
| Soccer Uniform | |
Stats
Inazuma Eleven GO 2: Chrono Stone
At Lvl. 99
GP: 130
TP: 144
Kick: 68
Dribbling: 81
Block: 128
Catch: 146
Technique: 121
Speed: 114
Stamina: 90
Lucky: 131
Hissatsu
Inazuma Eleven GO 2: Chrono Stone
Keshin
Inazuma Eleven GO 2: Chrono Stone
Mixi Max
Inazuma Eleven GO 2: Chrono Stone
Best Match Mixi Max
Game Exclusive Teams
Inazuma Eleven GO 2: Chrono Stone
Protocol Omega 3.0

Members
Reserves (Game exclusive)
Coach