Ad blocker interference detected!
Wikia is a free-to-use site that makes money from advertising. We have a modified experience for viewers using ad blockers

Wikia is not accessible if you've made further modifications. Remove the custom ad blocker rule(s) and the page will load as expected.
Rinne Makoto (林音 真琴) is a midfielder for Ancient Dark and for Zero.
Profile
"Crafts musical instruments, such as xylophones and castanets, from wood."
"Crafts musical instruments, such as castanets and marimbas, from wood."
Appearance
He has white-silver hair, rounded blue eyes with black markings around them. He is tall and he has a standard weight. His hairstyle resembles to Netsuha Natsuhiko's and Ichimonji Kirito's.
Personality
His personality is still unknown but since he is a SEED, he is loyal to Fifth Sector. Later during the movie, he was seen enjoying the match against Raimon as he and Zero remembered about the true soccer.
Plot
He appeared in the movie as a forward of
Ancient Dark
, and played against
Raimon
in the
God Eden
's forest.
Later, he reappeared as a midfielder of Zero, the combination team of Unlimited Shining and Ancient Dark.
At the debut of the match, he was seen to make pass with the others members of the team. He later used his keshin, Tekki Hei Knight B, against Raimon's Keshin it was blocked by Kariya's Hunter's Net and Kirino's Deep Mist.
Later, during the second half, he was switched with one of Zero's adults. He later agreed, allong with all his teammates, to have a fun match against Raimon. At the end of the movie, he was seen shaking hands with Kirino.
Game Appearance
Wii Avatar
| | Avatar |
| --- | --- |
| Soccer Uniform | |
Stats
All stats are at level 99 and untrained.
GP: 173
TP: 159
Kick: 110
Dribbling: 99
Technique: 85
Block: 73
Speed: 107
Stamina: 107
Catch: 57
Lucky: 78
GP: 162
TP: 149
Kick: 119
Dribbling: 149
Block: 90
Catch: 52
Technique: 83
Speed: 104
Stamina: 100
Lucky: 76
GP: 162
TP: 149
Kick: 119
Dribbling: 149
Block: 90
Catch: 52
Technique: 83
Speed: 104
Stamina: 100
Lucky: 76
Fully Upgraded
TP: 170
Kick: A
Guard: B
Body: S
Speed: A
Control: S
Catch: B
Hissatsu
Inazuma Eleven GO
Inazuma Eleven GO 2: Chrono Stone
Inazuma Eleven GO Galaxy
Inazuma Eleven Strikers 2012 Xtreme
Inazuma Eleven GO Strikers 2013
Keshin
Inazuma Eleven GO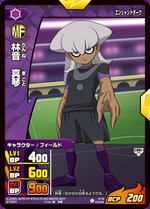 Inazuma Eleven GO 2: Chrono Stone
Inazuma Eleven GO Galaxy
Inazuma Eleven Strikers 2012 Xtreme
Inazuma Eleven GO Strikers 2013
Game exclusive teams
Inazuma Eleven GO 2: Chrono Stone