Revolution V (レボリューションV, Reboryūshon V) is a combination shoot hissatsu technique.
Description
Inazuma Eleven 2
"The unbreakable bond of friendship powers this unbeatable shot!"
Users
Info
This hissatsu broke through Mugen The Hand G4 during the match of Raimon versus the Dark Emperors in episode 65. However, Endou Mamoru saved the goal. The second time it was used, it was blocked by Kogure and Touko. The third time, it was blocked by Endou.
To get this hissatsu in the Wii games, you must have 50% friendship between Dark Emperors Handa and Matsuno.
Usage
Two users run together before joining hand and spinning in a vortex. When they reach a certain point, the two users kick the ball together in a V-shape towards the goal with the ball covered in tornado energy.
Slideshow
Anime
Video
Anime
Game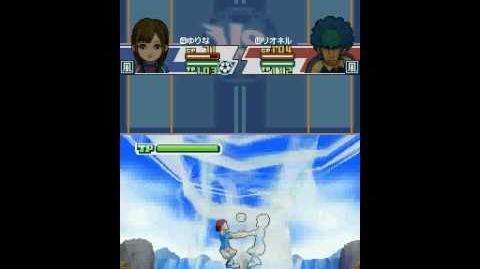 Inazuma Eleven GO Strikers 2013
Ad blocker interference detected!
Wikia is a free-to-use site that makes money from advertising. We have a modified experience for viewers using ad blockers

Wikia is not accessible if you've made further modifications. Remove the custom ad blocker rule(s) and the page will load as expected.