Reverse World (リバースワールド, Ribāsu Wārudo) is a punching catch hissatsu technique.
Users
Info
It first appeared in episode 48, used by Hosu. He tried to stop Zanark's Great Max na Ore, but failed to do so.
It again appeared in episode 49. Using it, Hosu stopped Zanark's Keshin Armed shoot and succeeded. Later, he tried to stop Matsukaze Tenma's God Wind, but failed another time.
In episode 50, Hosu used this hissatsu again. It evolved to Zetsu, but failed to stop Saikyou Eleven Hadou.
Usage
The user distorts the surroundings' space, getting the ball away the goal as if the field was reversed.
Slideshow
Anime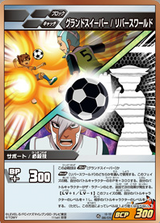 Video
Anime
Chrono Stone game
Ad blocker interference detected!
Wikia is a free-to-use site that makes money from advertising. We have a modified experience for viewers using ad blockers

Wikia is not accessible if you've made further modifications. Remove the custom ad blocker rule(s) and the page will load as expected.