Raffaele Generani (ラファエレ・ジェネラーニ, Rafaere Jenerāni) is a forward for Orpheus.
Profile
Inazuma Eleven 3
Appearance
Raffaele has pale skin and is quite tall. He has long curly brown hair and he wears a black headband. He also wears the standard uniform of Orpheus.
Plot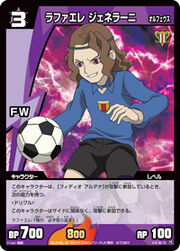 He was first seen training in the Italy area of
Liocott Island
along with the other members of Orpheus. Some days later, before the match against
Team K
, he was injured along with 7
players of his team. He, along with other members of Orpheus didn't trust
Kageyama
until
Fideo
said that they could trust him, making them able to use
Catenaccio Counter
. He also shot with his hissatsu
Freeze Shot
and scored a goal for Orpheus but tied in the end with 3-3 with
Inazuma Japan
.
Afterwards, Orpheus fought against Little Gigant. He shot with Freeze Shot but it was easily blocked by Rococo and lost. This depressed the whole team. Though, after some time they fought against Inazuma Japan and it showed that Orpheus had more skill.
Game appearance
Character sprite and avatar
| | Front sprite | Avatar |
| --- | --- | --- |
| Soccer uniform | | |
Wii avatar
| | Avatar |
| --- | --- |
| Soccer uniform | |
Character view
| | Front overview | Back overview |
| --- | --- | --- |
| Soccer uniform | | |
Recruitment
Inazuma Eleven 3
In the third game, first you must defeat Orpheus on Hirai Shinzou's Taisen Route. Then you choose him in the machine to recruit him. After that, you will find him in the Condor Stadium first floor. He appears randomly.
Stats
At lvl. 99
GP: 120
TP: 118
Kick: 70
Body: 60
Control: 52
Guard: 63
Speed: 71
Stamina: 48
Guts: 60
Freedom: 16
Fully upgraded
TP: 180
Kick: S
Guard: A
Body: B
Speed: A
Control: B
Catch: B
Hissatsu
Inazuma Eleven 3
Inazuma Eleven GO Strikers 2013
Game exclusive teams
Inazuma Eleven 3
Ad blocker interference detected!
Wikia is a free-to-use site that makes money from advertising. We have a modified experience for viewers using ad blockers

Wikia is not accessible if you've made further modifications. Remove the custom ad blocker rule(s) and the page will load as expected.