RC Shoot (RCシュート, RC Shūto) is a shoot hissatsu technique.
Users
Anime
Inazuma Eleven Strikers
Inazuma Eleven Strikers 2012 Xtreme
Inazuma Eleven GO Strikers 2013
Info
This technique is where the ball splits into four 'wheels' that appear on a remote-controlled car that Toramaru then steers with a control, dodging every defender. This technique could be called a plot device in the anime, as it has only been used once to resolve some conflict in the episode.
Obtainment
In order to obtain it's manual, in Inazuma Eleven 3, you'll need to have Toramaru in your main team. Head to Toramaru's Mom's Restaurant and talk to Toramaru's mom, she'll tell you about a healing herb. Once she finishes her dialogue head to Yamaneko Island and start on the route to the stadium, then go left, left, up and right, you'll be in a threeway road, one road going right the other going up and the left road is the one where you came from. Stick to the trees on the bottom and rotate the camera till you see a shiny object, pick it up and take it to Toramaru's mom. After all of this she'll give you the manual for RC Shoot.
Usage
The user kicks the ball up into the air while the ball separates into 4. A car appears and fits perfectly onto the four balls as wheels. He controls the direction of the shoot with a remote control as if the shoot was a game.
Slideshow
Anime
Video
Anime
Game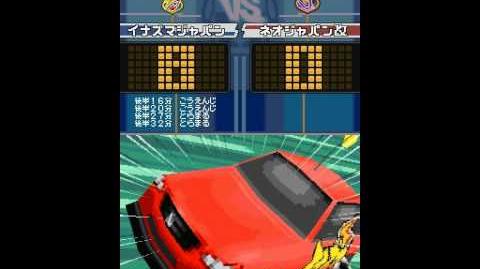 Inazuma Eleven GO Strikers 2013
Trivia