Prime Legend (プライムレジェンド, Puraimu Rejendo) is a combination shoot hissatsu technique.
Users
Anime
Inazuma Eleven Strikers
Inazuma Eleven Strikers 2012 Xtreme
Inazuma Eleven GO Strikers 2013
Info
Gouenji and Kidou have been shown to use this hissatsu as a shoot chain with Hiroto's Ryuusei Blade in the match against Ogre in Inazuma Eleven the Movie to score the final goal.
In the game, this can also be used, but only by unlocking it or buying it, or recruiting a person with Prime Legend though it is hard to find.
Obtainment
Inazuma Eleven 3
One of the possible ways to get it in Ogre is to go to the maid in the stadiums and do the Cups: Ogre Cup, Angel Cup will both have a chance to drop this move. However, these battles will not heal your GP nor TP, so be weary.
Wii
To get this hissatsu in the Wii games, you must have a 100% of friendship between Kanon, First Raimon Gouenji and First Raimon Kidou.
Usage
Two players jump into the air following the ball as it gets covered by a bluish aura. Then, both players kick the ball at the same time and the ball goes out of the darkness towards the goal.
Slideshow
Movie
Video
Movie
Game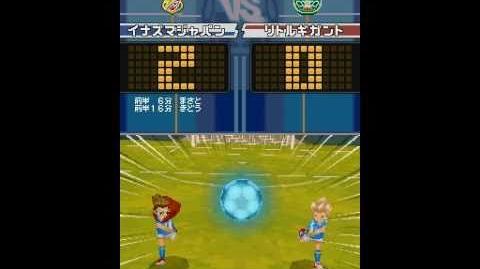 Inazuma Eleven GO Strikers 2013
Trivia