Perfect Zone Press (パーフェクトゾーンプレス, Pāfekuto Zōn Puresu) is a defense hissatsu tactic.
Users
Inazuma Eleven 3
Info
It is first used in the episode 82 by Fire Dragon against Inazuma Japan. This hissatsu tactic ended up injuring Fubuki Shirou and Tsunami Jousuke. This made Fubuki leave the team because of his injury.
Then, afterwards, this hissatsu tactic was broken through by Route of Sky, since this tactic specializes in the ground, where it does not apply on the air/sky.
Usage
In the anime this hissatsu tactic is made by air pressure, but in the game it is made with fire
Video
Anime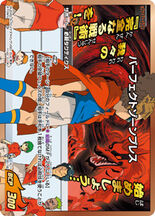 Game
Trivia
In the game, this tactic takes up 7 seconds, but it won't be shown in the timer though.
Ad blocker interference detected!
Wikia is a free-to-use site that makes money from advertising. We have a modified experience for viewers using ad blockers

Wikia is not accessible if you've made further modifications. Remove the custom ad blocker rule(s) and the page will load as expected.