Ad blocker interference detected!
Wikia is a free-to-use site that makes money from advertising. We have a modified experience for viewers using ad blockers

Wikia is not accessible if you've made further modifications. Remove the custom ad blocker rule(s) and the page will load as expected.
Ozuno Yaku (小津野 役) is a defender of Genei Gakuen.
Profile
Inazuma Eleven GO
Appearance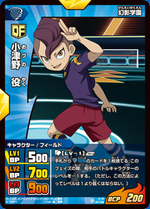 He has purple hair in a hairstyle similar to
Fudou
's and he has light brown eyes.
Plot
He first appeared in episode 34 with the rest of his team. They fought against Raimon in the 1/4 finals of the Holy Road. At the end of the episode, the score was 2-1 for Genei because Mahoro scored two times with his Maboroshi Shot and Tsurugi of Raimon scored also one time with his Death Drop.
In episode 35, he got passed by Aoyama, who used Presto Turn. At the end of the match, they lost with 4-3 due Hikaru scored with Extend Zone, which Utsurogi couldn't stop with his Kage Tsukami, Nishiki scored with Denrai Houtou and Tsurugi released his Keshin and used Lost Angel to score the final point for Raimon. Mahoro's Maboroshi Shot was stopped by Amagi's new hissatsu called Atlantis Wall.
Stats
All stats are at level 99 and untrained.
GP: 124
TP: 177
Kick: 80
Dribbling: 97
Technique: 141
Block: 126
Speed: 101
Stamina: 102
Catch: 58
Lucky: 88
GP: 122
TP: 175
Kick: 78
Dribbling: 94
Block: 123
Catch: 57
Technique: 138
Speed: 100
Stamina: 100
Lucky: 85
GP: 122
TP: 175
Kick: 78
Dribbling: 94
Block: 123
Catch: 57
Technique: 138
Speed: 100
Stamina: 100
Lucky: 85
Hissatsu
Inazuma Eleven GO
Inazuma Eleven GO 2: Chrono Stone
Inazuma Eleven GO Galaxy
Game exclusive teams
Inazuma Eleven GO
Inazuma Eleven GO Galaxy