Ad blocker interference detected!
Wikia is a free-to-use site that makes money from advertising. We have a modified experience for viewers using ad blockers

Wikia is not accessible if you've made further modifications. Remove the custom ad blocker rule(s) and the page will load as expected.
Onizuka Heita (鬼塚 平太) is a defender for Unlimited Shining and also for Zero.
Profile
"A tenacious defender who will pursue the ball even after being evaded."
"A tenacious defender who will pursue the ball even after being evaded."
Appearance
He has pink hair that is tied into five ponytails on top of his head. He has a small body size and has light teal eyes. His looks are similar to a rabbit.
He wears the Unlimited Shining uniform that has a shirt's base color of white, the chest area of the uniform being yellow, outlined with blue stripes. The collar and the sleeves linings are also blue.
Personality
His personality is unknown, Though, since he is a SEED, it can be sure that they are loyal to Fifth Sector and to Ishido Shuuji and Kibayama.
Plot
He appeared in the movie as a defender of Unlimited Shining and fought against Raimon. Raimon was badly beaten and lost 12-0. Then, he left with the rest of the team.
He later reappeared as a defender of Zero, the combination team of Unlimited Shining and Ancient Dark. He later agreeded to have a fun match against Raimon. At the end of the movie he was seen shaking hands with Nishiki.
Wii Avatar
| | Avatar |
| --- | --- |
| Soccer Uniform | |
Stats
All stats are at level 99 and untrained.
GP: 179
TP: 155
Kick: 100
Dribbling: 105
Technique: 93
Block: 101
Speed: 163
Stamina: 100
Catch: 49
Lucky: 81
GP: 147
TP: 142
Kick: 97
Dribbling: 102
Block: 149
Catch: 59
Technique: 90
Speed: 162
Stamina: 104
Lucky: 77
GP: 147
TP: 142
Kick: 97
Dribbling: 102
Block: 149
Catch: 59
Technique: 90
Speed: 162
Stamina: 104
Lucky: 77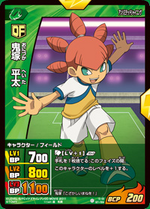 Fully Upgraded
TP: 180
Kick: S
Guard: A
Body: A
Speed: S
Control: A
Catch: B
Hissatsu
Mixi Max
Inazuma Eleven GO 2: Chrono Stone
Keshin
Inazuma Eleven GO
Game Exclusive Teams
Inazuma Eleven GO
Inazuma Eleven GO 2: Chrono Stone