Ad blocker interference detected!
Wikia is a free-to-use site that makes money from advertising. We have a modified experience for viewers using ad blockers

Wikia is not accessible if you've made further modifications. Remove the custom ad blocker rule(s) and the page will load as expected.
Nitta Miru (新田 ミル) is a midfielder for Unlimited Shining.
Profile
Inazuma Eleven GO 2: Chrono Stone
Appearance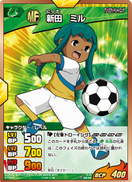 He is very short and has long dark teal hair with 2 ponytails at the right and left side in front of his ears. He has dark skin and black eyes. 
Personality
Since he is a SEED, he is loyal to Fifth Sector, Ishido Shuuji and Kibayama Douzan.
Plot
He appeared in the movie as a midfielder of Unlimited Shining and fought against Raimon. Raimon was badly beaten and lost 12-0. Then, he left with the rest of the team.
Stats
All stats are at level 99 and untrained.
GP: 155
TP: 153
Kick: 94
Dribbling: 134
Technique: 132
Block: 92
Speed: 144 (164)
Stamina: 115
Catch: 82
Lucky: 89
GP: 139
TP: 134
Kick: 85
Dribbling: 141
Block: 90
Catch: 81
Technique: 131
Speed: 157 (177)
Stamina: 112
Lucky: 57
GP: 139
TP: 134
Kick: 85
Dribbling: 141
Block: 90
Catch: 81
Technique: 131
Speed: 157 (177)
Stamina: 112
Lucky: 57
Hissatsu
Inazuma Eleven GO
Inazuma Eleven GO 2: Chrono Stone
Inazuma Eleven GO Galaxy
Game exclusive teams
Inazuma Eleven GO
Inazuma Eleven GO 2: Chrono Stone
Inazuma Eleven GO Galaxy