Nitta Miru (新田 ミル) is a midfielder for Unlimited Shining.
Profile
Inazuma Eleven GO 2: Chrono Stone
Appearance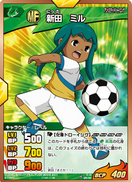 He is very short and has long dark teal hair with 2 ponytails at the right and left side in front of his ears. He has dark skin and black eyes. 
Personality
Since he is a SEED, he is loyal to Fifth Sector, Ishido Shuuji and Kibayama Douzan.
Plot
He appeared in the movie as a midfielder of Unlimited Shining and fought against Raimon. Raimon was badly beaten and lost 12-0. Then, he left with the rest of the team.
Game appearance
Character avatar
| | Avatar |
| --- | --- |
| Unlimited Shining uniform | |
Recruitment
Inazuma Eleven GO
In order to recruit Nita, Zero has to be defeated first in the post-game. Also, the following requirements are needed:
After this, he can be scouted for an amount of 5670 Kizuna points.
Stats
All stats are at level 99 and untrained.
GP: 155
TP: 153
Kick: 94
Dribbling: 134
Technique: 132
Block: 92
Speed: 144 (164)
Stamina: 115
Catch: 82
Lucky: 89
GP: 139
TP: 134
Kick: 85
Dribbling: 141
Block: 90
Catch: 81
Technique: 131
Speed: 157 (177)
Stamina: 112
Lucky: 57
GP: 139
TP: 134
Kick: 85
Dribbling: 141
Block: 90
Catch: 81
Technique: 131
Speed: 157 (177)
Stamina: 112
Lucky: 57
Hissatsu
Inazuma Eleven GO
Inazuma Eleven GO 2: Chrono Stone
Inazuma Eleven GO Galaxy
Game exclusive teams
Inazuma Eleven GO
Inazuma Eleven GO 2: Chrono Stone
Inazuma Eleven GO Galaxy