Ad blocker interference detected!
Wikia is a free-to-use site that makes money from advertising. We have a modified experience for viewers using ad blockers

Wikia is not accessible if you've made further modifications. Remove the custom ad blocker rule(s) and the page will load as expected.
Mohi Kanta (茂日 寛太) is a midfielder of Raimon's second team.
Appearance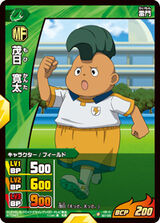 He has a green mohawk and black eyes.
Personality
Just like most members of the Raimon team, he deeply cares for soccer, but in the end quits after the second team was beaten up by Kuro no Kishidan.
Plot
He, along with the other second team members, appeared in
episode 1
and got injured from the arrival of
Tsurugi Kyousuke
. Later, he decided to quit the second team as the most members in the team.
In episode 40, he reappeared with the rest of the second team and had a match against the first team in order to test Tenma's captain abilities. He was seen stealing the ball from Kurama with Risuno.
He watched with his team the finals of the Holy Road, where Raimon played against Seidouzan in the first half and Dragonlink in the second half.
Game Appearance
Character Avatar
| | Avatar |
| --- | --- |
| Soccer Uniform | |
Character View
| | Front Overview | Back Overview | Front Close View | Back Close View |
| --- | --- | --- | --- | --- |
| Soccer uniform | | | | |
Stats
All stats are at level 99 and untrained.
GP: 161
TP: 159
Kick: 81 (91)
Dribbling: 87
Technique: 93
Block: 117
Speed: 89
Stamina: 103
Catch: 67
Lucky: 95
GP: 159
TP: 157
Kick: 71 (81)
Dribbling: 76
Block: 113
Catch: 54
Technique: 99
Speed: 81
Stamina: 87
Lucky: 85
GP: 159
TP: 157
Kick: 71 (81)
Dribbling: 76
Block: 113
Catch: 54
Technique: 99
Speed: 81
Stamina: 87
Lucky: 85
Hissatsu
Inazuma Eleven GO
Inazuma Eleven GO 2: Chrono Stone
Inazuma Eleven GO Galaxy
Game Exlcusive Teams
Inazuma Eleven GO Galaxy