Kemono no Tani (獣の谷, lit. Valley of the Beast) is a location in the Jurassic era.
Info
This is the main location in the Jurassic era for Raimon. Raimon came to this period to find power #7 and #8 for the Hasha no Seiten. Many dinosaurs live here as well as Torb's home being somewhere upon a mountain.
Cave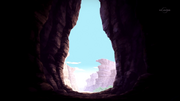 Deep into Kemono no Tani, there is a cave where Rockstar and Big live in. In episode 31, Rei Rukh appeared, and used his Sphere Device to mind-control Rockstar.