Kai (カイ) is a forward for Ancient Dark and midfielder for Zero.
Profile
Appearance
He has standard height, a fair skin, mid blue hair and eyebrows as well as steel blue eyes. He seems to have no nose at all.
Personality
He is a gentle guy. He is seen to be a good friend with Shuu.
Plot
He appeared in the movie as a forward of Ancient Dark, and played against
Raimon
in the
God Eden
's forest.
He later reappeared as a midfielder of Zero, the combination team of Unlimited Shining and Ancient Dark. At the debut of the match, he was seen to make pass with the others members of the team. He later used his keshin, Bannin no Tou Rook B, against Raimon's Keshin.
At the end of the movie, when Zero Magnum failed, he cheered Hakuryuu and Shuu up, saying that they will score a goal next time. After the match ended with a score of 5-5, he shook hands with Shindou.
Game appearance
Character avatar
| | Avatar |
| --- | --- |
| Ancient Dark uniform | |
| Zero uniform | |
Wii avatar
| | Avatar |
| --- | --- |
| Soccer uniform | |
Stats
All stats are at level 99 and untrained.
Hissatsu
Keshin
Inazuma Eleven GO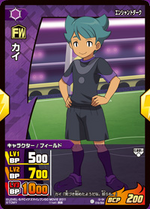 Inazuma Eleven GO 2: Chrono Stone
Inazuma Eleven GO Galaxy
Inazuma Eleven Strikers 2012 Xtreme
Inazuma Eleven GO Strikers 2013
Game exclusive teams
Inazuma Eleven GO
Inazuma Eleven GO 2: Chrono Stone
Ad blocker interference detected!
Wikia is a free-to-use site that makes money from advertising. We have a modified experience for viewers using ad blockers

Wikia is not accessible if you've made further modifications. Remove the custom ad blocker rule(s) and the page will load as expected.