Ad blocker interference detected!
Wikia is a free-to-use site that makes money from advertising. We have a modified experience for viewers using ad blockers

Wikia is not accessible if you've made further modifications. Remove the custom ad blocker rule(s) and the page will load as expected.
Itsumi Kunihiko (逸見 久仁彦) is a forward and one of the SEEDs of Teikoku in Inazuma Eleven GO.
Appearance
Itsumi has shoulder-length dark maroon hair. His eyes are black. He also has a scar on his right cheek. He also wears the Teikoku soccer uniform.
Personality
It seems that he likes to tease a lot, as shown that he teased Nishizono when he couldn't get the ball from him and is a bit arrogant and rude. Though since Teikoku is with the Resistance, he cares for soccer and also wants to play "real soccer" someday also.
Plot
He first appeared in episode 15 along with the whole Teikoku team. They were seen training with Sakuma and stopped when Kidou wanted to announce their next opponent which was Raimon.
In episode 16, the match continues, the ball was about to be passed to him and Shinsuke was about to get the ball but he wasn't able to get it. After Itsumi getting the ball, he shot towards the goal with his head, but Sangoku was able to block it. Afterwards, Itsumi mocks Nishizono not being able to get the ball from him.
Itsumi gets the ball again and Nishizono not being able to get the ball from him again, Itsumi kicks the ball to Mikado as Mikado try to shoot but it is catched again.
The third time, Itsumi tries to get the ball but failed this time to do s
o because of Nishizono's new hissatsu,
Buttobi Jump
, surprising Itsumi.
In episode 17, he used his hissatsu, Britannia Cross, to get pass from Hayami and is able to do so. When he had the ball, it was taken away by Kirino with his hissatsu, The Mist. After sometime in the second half, like most of the members, they got tired.
Afterwards, when Ultimate Thunder was used again by Raimon, he was also trying to contain the energy released by the hissatsu tactic, Ultimate Thunder, though like the other members of his team, he has failed to do so. In the end, Teikoku lost with 3-2.
Game Appearance
Character Sprite and Avatar
| | Avatar |
| --- | --- |
| Soccer uniform | |
Stats
All stats are at level 99 and untrained.
GP: 127
TP: 164
Kick: 146
Dribbling: 89
Technique: 116
Block: 102
Speed: 113
Stamina: 92
Catch: 56
Lucky: 95
GP: 122
TP: 162
Kick: 141
Dribbling: 88
Block: 100
Catch: 53
Technique: 114
Speed: 112
Stamina: 90
Lucky: 92
GP: 122
TP: 162
Kick: 141
Dribbling: 88
Block: 100
Catch: 53
Technique: 114
Speed: 112
Stamina: 90
Lucky: 92
Hissatsu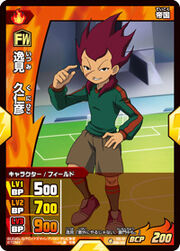 Anime
Inazuma Eleven GO
Inazuma Eleven GO 2: Chrono Stone
Inazuma Eleven GO Galaxy
Game Exclusive Teams
Inazuma Eleven GO
Inazuma Eleven GO Galaxy
Trivia