This page is about the old Inazuma KFC team of Inazuma Eleven, for the Inazuma KFC team of Inazuma Eleven GO, visit Inazuma KFC (GO).
---
Inazuma KFC (稲妻KFC) is a team introduced in the first game/season. They train at the football field by the riverside.
Uniform
They have a red overall design with yellow stripes. The goalkeeper however, wears a blue overall color instead that has yellow stripes.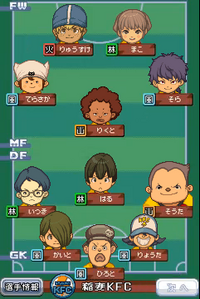 Members
Match
Raimon Vs. Inazuma KFC
They had a practice match against Raimon. In the end, Raimon won 20-0.
Trivia
Their coach was a member of the original Inazuma Eleven.
Endou stated in the first episode that Inazuma KFC members are very good players.
Inazuma KFC means Inazuma Kids Football Club.
This team reappeared in the Inazuma Eleven GO game.
Inazuma KFC

Members
Coach
Ad blocker interference detected!
Wikia is a free-to-use site that makes money from advertising. We have a modified experience for viewers using ad blockers

Wikia is not accessible if you've made further modifications. Remove the custom ad blocker rule(s) and the page will load as expected.