Help Out!
The Inazuma Eleven Wiki is an encyclopedia about everything related to the Inazuma Eleven world, games, manga, anime and merchandise.

The wiki format allows anyone to create or edit any article, so we can all work together to create a comprehensive database for fans of Inazuma Eleven.

Before editing articles, remember to read our Manual of Style and, if you are new to wiki editing, the general Help files.

When creating new character pages, remember to use the character template for the characters, for episodes use the episode template, for creating hissatsu pages use the hissatsu template, for creating hissatsu tactics pages use the hissatsu tactics template, for the team articles, use the team template, and for the Keshin articles, use the keshin template. For opening songs, use the opening song template, for the ending songs, use the ending song template, and for the locations, use the locations template.

We also have a chat for the users, please check the sidebar on most pages to enter it and start a discussion amongst users who are online or you could click here to open the chat within this window.

Also, if you want to help us out lessening the stub articles, click here.
Main Characters and Main GO Characters
Inazuma Eleven Wiki Community



Italiano 

Français 
Español 

Tiếng Việt 

Nederlands
Deutsch 

Indonesia 
Featured Article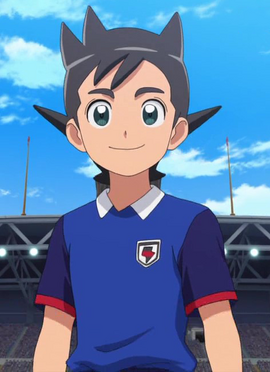 Asuto is one of the three new main characters of the Inazuma Eleven Ares no Tenbin series. He comes from Inakunijima, where his soccer club was disbanded due to them not having a sponsor. His love for soccer makes him convince his teammates to leave the island, and go to Raimon. By joining the team, they should be able to retrieve "their" soccer. However to win the Football Frontier, they will have to beat the fearsome Seishou Gakuen...
For more, check out: Inamori Asuto
Poll
Past polls archive
The new Inazuma Eleven Ares no Tenbin series is coming really close! Are you going to watch it?