Inazuma Eleven GO VS Danball Senki W
Talk

5
Inazuma Eleven GO VS Danball Senki W
Japan Release Date: December 01, 2012
DVD/BD Release Date: June 05, 2013
Japanese title: 劇場版 イナズマイレブンGO vs ダンボール戦機W
Romaji: Gekijouban Inazuma Eleven GO VS Danball Senki W
---
Info
The movie aired on December 1st in the theater. The DVD and Blu-ray were released on June 5th 2013. This is the third movie of the Inazuma Eleven universe, second one of GO and the first one for the Danball Senki Series.
Summary
The film took place in a parallel world after the Three Kingdom's Era.
Shinsei Inazuma Japan, a team formed by some of Raimon's players, Hakuryuu and Yukimura Hyouga played against Endou's team, Inazuma Legend Japan. 
Asta suddenly arrived and disturbed the match. Then, an army of LBX attacked the stadium. 
The LBX did considerable damage to the stadium and other locations. Endou and his team also disappeared, having been absorbed by a strange purple light.
The members of Shinsei Inazuma Japan were safe from the disaster, because of Inazuma TM Caravan's arrival, driven by Wonderbot.
Asta, San and Fran are the main antagonists of the movie.

Fran seemed to be able to "erase" the world and return it to its natural state, as trees started to grow in cities while buildings vanished.

Asta has a team, the Destructchers. Their goal was to destroy soccer.
San is able to control thousands of LBXs at the same time. His goal is to erase LBX. 
While in her light form, Fran can control LBXs. Though in her dark form, which is her Keshin Armed and Mixi Max, she can play soccer.
Hissatsu/Tactics Used
Hissatsu
Tactics
Keshin/Keshin Armed/Mixi Max Used
Keshin/Keshin Armed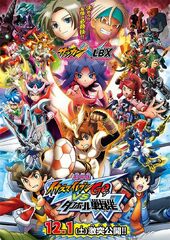 Mixi Max
Danball Senki W Characters
LBXs
Attack Functions Used
Trailer
Danball Senki W
Inazuma Eleven GO
Full Trailer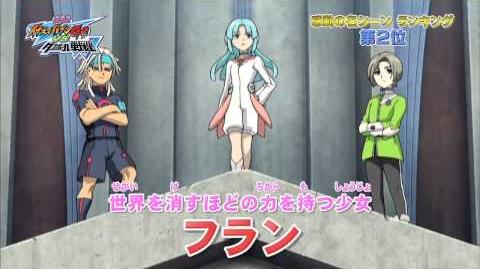 Trivia
See Also