Inazuma Eleven GO Galaxy (イナズマイレブンGO ギャラクシー) is the new series of Inazuma Eleven, and the sequel to Inazuma Eleven GO Chrono Stone. 
Summary
Youths' soccer world championship, Football Frontier International Vision 2 (FFIV2) is held, thus Inazuma Japan is born. However, to represent Japan, there are players elected never before seen. "Its time to face the world"
What on earth will happen to Inazuma Japan!?
Characters
There are new characters that will appear in the Inazuma Eleven GO Galaxy series, but there are also some characters from the previous series that will also appear.
For more check:
Teams
There are new teams which will be shown in Inazuma Eleven GO Galaxy.
For more check:
Trailer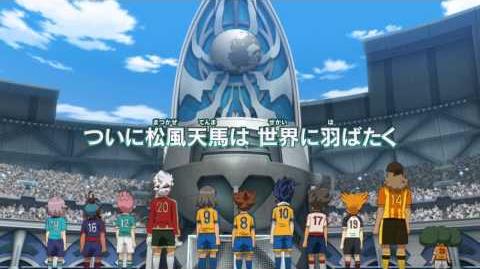 Trivia
The main theme of this series is saving the Earth from aliens.
The blue thunder behind the logo resembles a 3, a reference to Galaxy being the third installment of the GO series.
External Links
Ad blocker interference detected!
Wikia is a free-to-use site that makes money from advertising. We have a modified experience for viewers using ad blockers

Wikia is not accessible if you've made further modifications. Remove the custom ad blocker rule(s) and the page will load as expected.