Your help is needed here!

This article is a stub. You can help Inazuma Eleven Wiki by expanding it.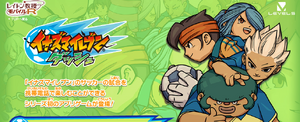 Inazuma Eleven Dash (イナズマイレブンダッシュ) is a game for mobile phones.
Gameplay
This game is based off of the DS games and was released on December 23, 2010. Just like in the DS game, you can challenge other teams and train your team.
Trivia
Gallery
See also
Inazuma Eleven Franchise

First trilogy
Second trilogy
Third trilogy
Spin-off games
Anime
Movies
Ad blocker interference detected!
Wikia is a free-to-use site that makes money from advertising. We have a modified experience for viewers using ad blockers

Wikia is not accessible if you've made further modifications. Remove the custom ad blocker rule(s) and the page will load as expected.