Inazuma 1gou (イナズマ1号, Inazuma Ichigō, lit. Inazuma No. 1) is a combination shoot hissatsu technique.
Game description
Inazuma Eleven
"This coordinated shot attests to the strength of friendship."
Users
Info
It was first used in the match against Mikage Sennou to shoot back Patriot Shoot and it scored. Later, in the match against Senbayama, it was used again but failed this time because of Mugen no Kabe.
Obtainment
Inazuma Eleven 2
Inazuma 1gou's manual can be bought in Okinawa's Hissatsu store for 2800 Nekketsu Points.
Usage
Two users run at the same pace near the ball. Then they both spin and appears to be switching position before shooting the ball towards the goal in unison, charged by yellow lightning energy.
Slideshow
Anime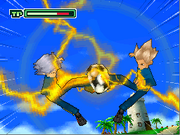 Video
Anime
Inazuma Eleven Strikers
Inazuma Eleven Online
Trivia
Ad blocker interference detected!
Wikia is a free-to-use site that makes money from advertising. We have a modified experience for viewers using ad blockers

Wikia is not accessible if you've made further modifications. Remove the custom ad blocker rule(s) and the page will load as expected.