Ignite Steal (イグナイトスティール, Igunaito Sutīru) is a block hissatsu technique.
Description
Inazuma Eleven Strikers
"Burn up the turf with an unstoppable sliding tackle!"
Users
Info
In the anime, this technique is used by a defender of Prominence, Honba Geki, who later becomes a member of Chaos. This hissatsu was eventually combined with Frozen Steal to create a double defense.
Usage
The user performs a slide to steal the ball from an opponent. As they slide, their sliding foot ignites on fire and their path is trailed with blazes of fire. In the anime, the target trips over, leaving the ball vulnerable, but in the game, the target is left, trapped in the flames.
Slideshow
Anime
Video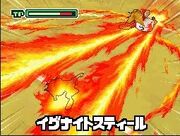 Anime
Game
Inazuma Eleven GO Strikers 2013
See also
Ad blocker interference detected!
Wikia is a free-to-use site that makes money from advertising. We have a modified experience for viewers using ad blockers

Wikia is not accessible if you've made further modifications. Remove the custom ad blocker rule(s) and the page will load as expected.