Holy Zone (ホーリーゾーン, Hōrī Zōn) is a catch hissatsu technique.
Users
Inazuma Eleven 3
Info
It was only used once by Tenkuu no Shito's goalkeeper, in episode 109 to stop the Red Team's shoot.
Usage
The user jumps up and punches his fist on the ground. The sky opens up a golden hole. The hole produces a yellow-like energy that slow down the ball when it touches it. The ball slows down and get caught by the user.
Slideshow
Anime
Video
Anime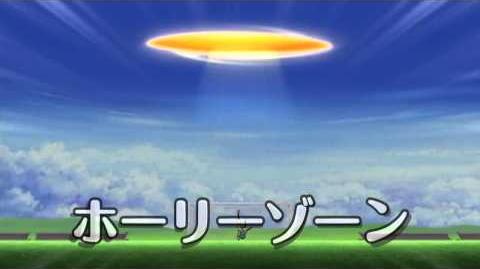 Game
Ad blocker interference detected!
Wikia is a free-to-use site that makes money from advertising. We have a modified experience for viewers using ad blockers

Wikia is not accessible if you've made further modifications. Remove the custom ad blocker rule(s) and the page will load as expected.