Head Bazooka (ヘッドバズーカ, Heddo Bazūka) is a game exclusive shoot hissatsu technique.
Description
Inazuma Eleven GO 2: Chrono Stone
"Launch the ball into the air and give it the best header of your life!"
Users
Info
It appeared in Inazuma Eleven Strikers 2012 Xtreme. It is also used in the Inazuma Eleven GO game.
Usage
The user kicks the ball into the air and then spins. While the ball comes down the user holds his head back in preparation, and when the ball comes within range, the user smacks his head into it and heads it at the goal.
Slideshow
Inazuma Eleven GO Strikers 2013
Video
Game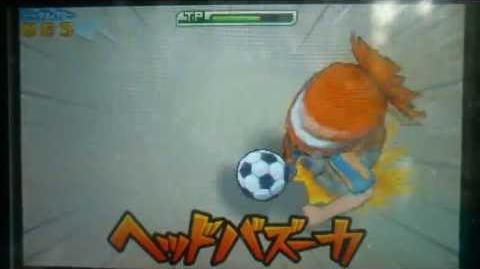 Inazuma Eleven GO Strikers 2013
Ad blocker interference detected!
Wikia is a free-to-use site that makes money from advertising. We have a modified experience for viewers using ad blockers

Wikia is not accessible if you've made further modifications. Remove the custom ad blocker rule(s) and the page will load as expected.