Hanafubuki (はなふぶき, lit. Falling Cherry Blossoms) is a catch hissatsu technique.
Users
Info
Hanafubuki is a catch hissatsu used by Dosu Koi, goalkeeper of Osaka Gals. It debuted in episode 40 when she tried to stop Fubuki's Eternal Blizzard, but failed.
Usage
The user creates a small pink whirlwind as it engulfs the ball and sends it up. The ball then loses its power and fall to the user's hand.
Slideshow
Anime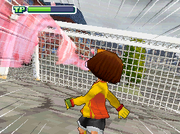 Video
Anime
Inazuma Eleven GO Strikers 2013
Trivia
Ad blocker interference detected!
Wikia is a free-to-use site that makes money from advertising. We have a modified experience for viewers using ad blockers

Wikia is not accessible if you've made further modifications. Remove the custom ad blocker rule(s) and the page will load as expected.