Gyro Saving (ジャイロセービング, Jairo Sēbingu), also known as Keeper Command 07 (キーパーコマンド07, Kīpā Komando Zero-Sebun), is a catch hissatsu technique.
Users
Info
Gyro Saving was used twice during the match between Raimon and Protocol Omega 3.0 in the France era by Rujiku, who was Mixi Maxed with Zanark Avalonic. He first used it to stop Tsurugi Kyousuke's keshin armed shoot but failed to do so. Using it for the second time, he failed to stop Shindou Takuto's Setsuna Boost as well, making Raimon the winner of the match with a score of 2-1.
Rujiku used it again in episode 42. He tried to stop Dead Future twice, but failed. The second time, he got injured badly and was replaced by Mecha Endou.
Usage
The user rotates and creates rings around himself in mid-air. Those rings create a sphere that protects the goal. In the game, the ball travels around the rings and ends in the user's hands.
Slideshow
Anime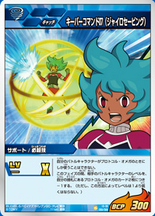 Video
Anime
Inazuma Eleven GO Strikers 2013