Gyro Saving (ジャイロセービング, Jairo Sēbingu), also known as Keeper Command 07 (キーパーコマンド07, Kīpā Komando Zero-Sebun), is a catch hissatsu technique.
Users
Info
It first appeared in episode 21, used by Rujiku. However, it failed to catch Tsurugi's Keshin Armed shoot and Shindou's Setsuna Boost.
Rujiku used it again in episode 42. He tried to stop Dead Future twice, but failed. The second time, he got injured badly and was replaced by Mecha Endou.
Usage
The user rotates and creates rings around himself in mid-air. Those rings create a sphere that protects the goal. In the game, the ball travels around the rings and ends in the user's hands.
Slideshow
Anime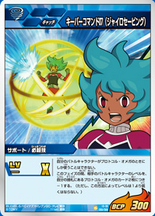 Video
Anime
Inazuma Eleven GO Strikers 2013
Ad blocker interference detected!
Wikia is a free-to-use site that makes money from advertising. We have a modified experience for viewers using ad blockers

Wikia is not accessible if you've made further modifications. Remove the custom ad blocker rule(s) and the page will load as expected.