Grenade Shot (グレネードショット, Gurenēdo Shotto) is a shoot hissatsu technique.
Game description
Inazuma Eleven
"By twisting the body, this shot boasts the power of a grenade!"
Users
Info
It is used once by Shishido Sakichi in the anime when they were practicing, so far this is his first hissatsu he ever made though it hasn't been used in the anime ever since.
In the game, it is the default hissatsu of Shishido Sakichi, but Endou Mamoru has it as a default hissatsu as well (in the first game).
Usage
First the user centers the ball near his feet on the ground, then the ball starts to have a bluish aura and finally the user kicks the ball and the ball explodes at the opposite goal like a grenade.
Obtainment
Inazuma Eleven
Grenade Shot can be bought for 150 Nekketsu Points in the first Inazuma Eleven game.
Inazuma Eleven 2
Grenade Shot can be bought in the shop in Nara for 150 Nekketsu Points.
Slideshow
Wii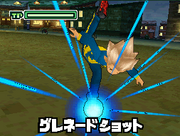 Video
Anime
Game
Inazuma Eleven GO Strikers 2013
Trivia
Ad blocker interference detected!
Wikia is a free-to-use site that makes money from advertising. We have a modified experience for viewers using ad blockers

Wikia is not accessible if you've made further modifications. Remove the custom ad blocker rule(s) and the page will load as expected.