Ad blocker interference detected!
Wikia is a free-to-use site that makes money from advertising. We have a modified experience for viewers using ad blockers

Wikia is not accessible if you've made further modifications. Remove the custom ad blocker rule(s) and the page will load as expected.
Gouryuu (ゴウリュウ, lit. Strong Dragon) is a Soul introduced in Inazuma Eleven GO Galaxy.
User
Inazuma Eleven GO Galaxy
Info
It debuted in episode 31, used by Arbega Gordon to save both teams and the soccer field from being destroyed by a magma rock. Afterwards, he tried to stop Kujaku but failed.
It was used by Arbega again in episode 41, to stop Ixaal's Soul Strike and succeeded.
Usage
The user turns into Gouryuu and swings his tail, blocking the shoot.
Skill Roulette
Inazuma Eleven GO Galaxy
Shibire Minus LV.2 (シビレマイナスLV.2): Decreases the shibire damage by 35
Catch Up LV.1 (キャッチアップLV.1): Increases the catch power by 100
Shibire Minus LV.1 (シビレマイナスLV.1): Decreases the shibire damage by 20
Catch Up LV.2 (キャッチアップLV.1): Increases the catch power by 150
Miss! (ミス!): No Effect
Miss! (ミス!): No Effect
Gallery
Slideshow
Anime
Video
Anime
Game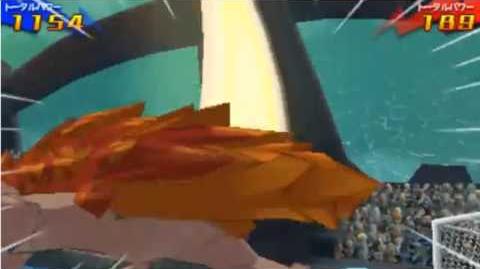 Evolution Route
Inazuma Eleven GO Galaxy
| | Level 1 | Level 2 | Level 3 | Level 4 | Level 5 |
| --- | --- | --- | --- | --- | --- |
| SP | 120 | 130 | 150 | 180 | 200 |