God Triangle (ゴッドトライアングル, Goddo Toraianguru) is an offensive hissatsu tactic.
Users
Inazuma Eleven GO
Inazuma Eleven GO 2: Chrono Stone
Inazuma Eleven GO Galaxy
Info
God Triangle was used several times during the match between Raimon and Kidokawa Seishuu by several player of Kidokawa Seishuu. Their coach, Afuro Terumi, came up with the idea of the tactic to avoid Water World Stadium's pitch-down mechanism.
After Raimon won the Holy Road, the team watched a special program that was commemorated to them on TV, showcasing their hissatsu, keshin and tactics they used and the opponents and their moves they faced during the tournament.
Usage
Kishibe and two other members of Kidokawa Seishuu run together and form a golden triangle on the ground. When the gap and the water waves appeared, Kishibe makes a backpass to one of the members behind him, among the triangle, and they change its direction.
With this, they were able to avoid being hit by the waves and continued to advance with the ball.
Slideshow
Anime
Video
Anime
Game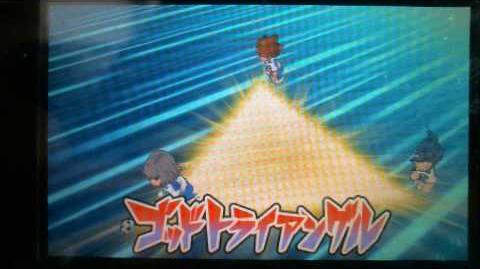 Trivia