God Hand V (ゴッドハンドV, Goddo Hando Bui) is a catch hissatsu technique.
Users
Info
GO movie
It was used by the young Endou to stop Kibayama's Fuurinkazan Destroyer and it succeeded in stopping the hissatsu.
Inazuma Eleven GO Chrono Stone
It appeared in episode 6, used by Endou to protect Fei Rune from being sealed by Beta's Sphere Device, however it was swallowed up by the device.
Usage
The user turns back in a similar way to Endou's first Majin The Hand, and a yellow shine appears from his hand. Then, he faces the shoot and releases two golden wings and finally releases a bigger, golden God Hand that stops the shoot.
Gallery
Slideshow
Anime
Video
Anime
Movie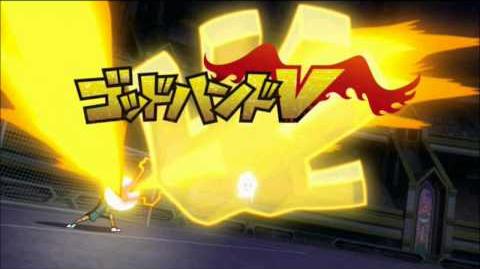 GO game
Inazuma Eleven GO Strikers 2013
Trivia
Even though it is called God Hand V in the dub version of the game, in the dub version of the anime, it is called God Hand 5.
Ad blocker interference detected!
Wikia is a free-to-use site that makes money from advertising. We have a modified experience for viewers using ad blockers

Wikia is not accessible if you've made further modifications. Remove the custom ad blocker rule(s) and the page will load as expected.