God Angel (ゴッドエンジェル, Goddo Enjeru) is a team that can be challenged in Inazuma Eleven 3 The Ogre.
Info
This team can be challenged after the story mode is done. This team appears in Hitomiko's upper route as the 4th team.
Uniform
Their uniform is the away uniform of Tenkuu no Shito.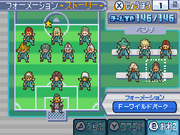 Members
Hissatsu tactics
Inazuma Eleven 3
Trivia
Ad blocker interference detected!
Wikia is a free-to-use site that makes money from advertising. We have a modified experience for viewers using ad blockers

Wikia is not accessible if you've made further modifications. Remove the custom ad blocker rule(s) and the page will load as expected.