Galatyn (ガラティーン, Garatīn) is a catch hissatsu technique.
Users
Inazuma Eleven 3
Info
This hissatsu was used to try and block Toramaru's Gladius Arch but fails to do so during the match of Knights of Queen vs. Inazuma Japan. It was able to stop Kiyama Hiroto's Ryuusei Blade V2, but also failed to stop Tiger Storm. 
Usage
This is a move where the goalkeeper summons a giant sword of light, then strikes the ball with great force and splits it into half then catches it.
Slideshow
Anime
Video
Anime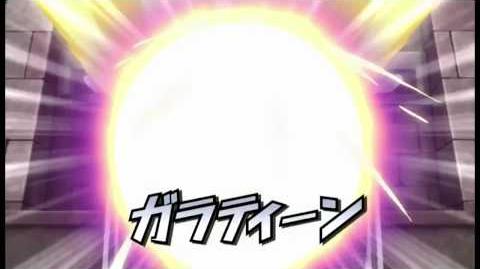 Trivia
This technique is based on the Galatine, the sword of Gawain who was a Knight of the Round Table .
Ad blocker interference detected!
Wikia is a free-to-use site that makes money from advertising. We have a modified experience for viewers using ad blockers

Wikia is not accessible if you've made further modifications. Remove the custom ad blocker rule(s) and the page will load as expected.