Fuurinkazan Destroyer (風林火山デストロイヤー, Fūrinkazan Desutoroiyā, lit. Wind, Wood, Fire, Mountain Destroyer) is a shoot hissatsu technique.
Users
Info
It appeared in the GO movie, used by Kibayama Douzan. It was stopped by Endou's God Hand V.
Usage
The user lifts up their pointer finger and gathers energy to the ball. Then fire, wind, wood and earth energy gather into the ball as the user kicks it towards the goal in a stream of purple energy. In Strikers, only Kibayama says the name of the hissatsu. However, in the movie the Zero adults say the name of each element.
Slideshow
Movie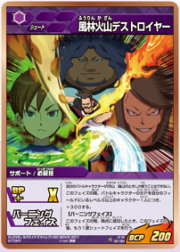 Video
Movie
Inazuma Eleven Strikers 2012 Xtreme